In 2010, seven young people were inspired by a simple offer: 'Give a year. Change the world - by supporting children in your own community'. They signed up to pilot a youth civilian service programme from America. City Year London, later to become City Year UK, was born.
An international movement for social change
City Year was founded in the US in 1988 as a national service programme to unite young adults from diverse backgrounds for a demanding year of full-time civilian service. It has since grown to 29 US cities. In 2005, Nelson Mandela invited City Year to Johannesburg leading to City Year South Africa, the first international affiliate. The UK launch followed five years later.
"Never doubt that a small group of thoughtful, committed citizens can change the world. Indeed, it is the only thing that ever has."

Margaret Mead Author and speaker
1988
City Year is founded by Harvard Law School roommates, Michael Brown and Alan Khazei.
City Year Inc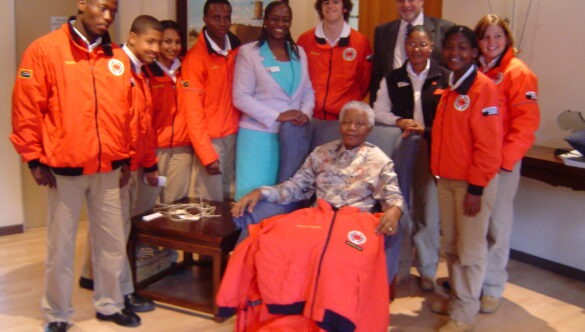 2005
Nelson Mandela invites City Year to Johannesburg, leading to the first international affiliate; City Year South Africa.
City Year South Africa
"Your experience will be unique to you but you are part of a movement of thousands of young people across the world who believe in making a positive and lasting change for children."

Alum City Year UK