The world needs what young people have to give
Globally, COVID-19 has disrupted over 90% of children and youth. In the UK, pupils missed over six months of in-person education – almost 5% of their educational career. 60% of graduate employers cancelled some or all of their work experience and internships and under 25-year-olds were worst hit by unemployment.
City Year UK is proud to be a part of an international movement of diverse young adults who responded to the crisis by volunteering full-time to coach, mentor and inspire pupils to overcome social, emotional and academic barriers to learning exacerbated by the pandemic. Right from the first shutdown, they were integral to our partner schools' response.
This report highlights their sense of purpose, resilience, adaptability, impact and talent as they supported pupils furthest from opportunity across London, the West Midlands and Greater Manchester. Often volunteering in their own community, it also tells the stories of the distance they travelled and the skills, experience and networks they gained in the years the world closed.
A message from our Chief Executive and Chairman
When our volunteers first applied to City Year UK, we told them it would be a year like no other. 2020 and 2021 proved to be just that – in ways we could never have predicted.
Read more
Our Impact
City Year UK is a youth and education charity which believes that whatever their background, children and young people deserve the best start in life. We boost the progress of pupils furthest from opportunity in schools and are building a diverse talent pool from all corners of our communities. Find out more about who we are, what we do and our impact on children and young people.
Meet some of our City Year Mentors
Our Stories
"I've been on dark roads where City Year was the light to guide me home." When Thembeka was at school, City Year UK was there for him. 7 years later, that experience inspired him to put on the red jacket.
Hear Thembeka's story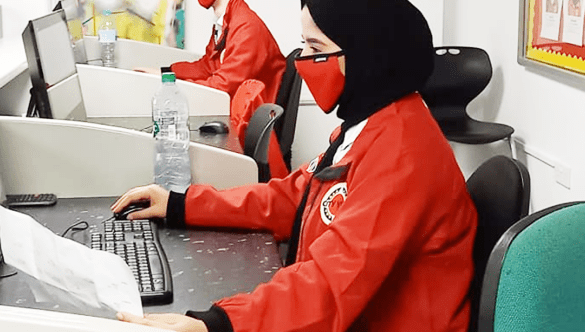 "I grew up around people who struggled in school"
Abul joined City Year West Midlands to challenge himself and offer the help to pupils that he felt his peers had missed out on at school. He describes his journey as part of our pilot team in an Alternative Provision school in Walsall.
Read Abul's story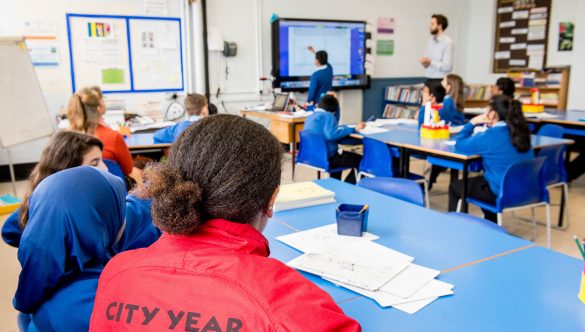 "When you change a life, it inevitably changes you"
During lockdown, Mike continued in school because of his vulnerability. He had often felt overwhelmed and walked out of class. Chloe took the opportunity to build his trust and helped him learn how to manage his emotions. What she didn't expect was how Mike would change her own life.
Read Mike and Chloe's story
"City Year gave me something to be passionate about"
Volunteering in Greater Manchester, Eloise hoped City Year would give her an insight into what to do next. She never imagined how passionate she would become about her new role.
Read Eloise's story
Our regional approach
Catch up on what's been going on across City Year London, the West Midlands and Greater Manchester.
"City Year helped me gain confidence in the power I now know I have within me to make an active difference in someone's life."

Jamal City Year Mentor, City Year London
Our Partners
Over the last two years, our partners have been more vital than ever before. We would like to take this opportunity to sincerely thank everyone, from schools to supporters, for their steadfast commitment. Find out how you could get involved.
Our partnerships in numbers 2020-21
2,500+ hours
of corporate volunteering given to support our young people in a year.
370 corporate volunteers
involved in helping to deliver our leadership and development programme.
140 professionals
volunteered for 10 months to give 1:1 mentoring and careers advice to our young adults.
It has been a pleasure working with the City Year team this year - they have added extra support in and out of lessons. They have been a vital part of our students' success.

English Teacher Alternative Provision school, Walsall
Financial statement
Despite the ongoing effects of the pandemic, thanks to the commitment of our donors and a 19% growth in school partners (who also contribute to the cost of their City Year UK teams), we were able to increase our income to £2,768,608 in the last financial year, up from £2,680,219 for the financial year ended 2020.
In recent years, we have concentrated on strengthening our organisation, improving our operating efficiency and growing our impact. This year, our move to smaller and cheaper shared office spaces in London and Manchester contributed to an increase in our reserves for the second year running, while we were also able to go ahead with investment in our volunteer experience and measurement, to drive the best outcomes for pupils and volunteers.
Looking forward to the next 12 months, we will continue that focus, so that whatever COVID-19 related challenges we may face, our robust and proven programme will deliver the academic, social and emotional support that pupils need to get their education back on track and ensure that our diverse and inspirational young adults have the skills to launch the careers they deserve.
"Serving during COVID you've had to adapt fast, shape-shifting for any role you're cast.
But when people ask you where you were during the global pandemic, you can say that you contributed when it counted. And as the pressure mounted, you came through, rain or shine, to offer your help on the frontline.
"To be a role model is the role you chose; being there for students during their lows. You dug deep beneath the surface and served with spirit and purpose. The endless support you give to students is not an easy demand but you turn up with a smiling face, an ear to listen, a helping hand.
"For all you've achieved you should feel proud and it is because of this that I declare out loud. The secret that everybody should know; that it's you City Years who are the real life SUPERHEROES."
Excerpt from A Poem of Appreciation
Christina Bryan, Impact Officer, City Year West Midlands
Thank you
We want to say a big thank you to our donors, partners, staff and everyone who has provided, and continues to provide, such vital support for our organisation.
Get in touch