Typically 90% of our City Year Mentors are in further education or employment within three months of completing their 'City Year'.
Talent
The pandemic has not only shone a spotlight on the need for programmes like City Year UK in the education system, but also on ensuring that the talent of a generation of young adults does not go to waste. Recent research found that 60% of students felt their opportunities to learn job skills had worsened and that 42% of young people did not know what job they would have by age 30.
The current public discussion on how young people can catch up on lost learning concentrates mainly on core academic subjects in primary or secondary education. However, the evidence… suggests that for a large percentage of students..., progress in job skills learning suffered as well.

Ingrid Schoon, Golo Henseke Career Ready? UK Youth during the Covid-19 Crisis (2021)
The path to employment and the pandemic
2x
young people
were twice as likely to be working in shutdown sectors
60%
of graduate employers
cancelled some or all of their work experience
8.7%
of young people
fall in young, working class men in paid work in September 2020 vs September 2021
60%
of young people
more likely to be in a professional job if you are from a privileged background
Source: Social Mobility Commission, State of the Nation 2021 report
Give a year: gain a career
Against this backdrop, in 2020-21 we increased our number of volunteering placements by a third, to the largest number in our history and continued the planned improvement of our volunteers' training experience, moving online when sessions couldn't be delivered face-to-face.
Skills Builder Partnership Trailblazer
In 2019, we helped pilot the Skills Builder Partnerships' Universal Framework and since then, have fully integrated it into our leadership and development programme. In 2021, we were rewarded with a Level 4 from the partnership - one of only ten external organisations to achieve this top level - for our impact on young people's essential skills.
Tailored personal & professional development
As part of our commitment to skills building, every City Year Mentor receives their own Personal Development Plan, which now incorporates the eight competencies in the Skills Builder Universal Framework. From speaking to problem solving and leadership to teamwork, whatever they decide to do next, there is a clear match between what employers are looking for and the skills our young adults develop.
Career choice
Although many City Year Mentors didn't know what job they wanted to do at the start of their 'City Year', they had a clearer idea by the end. When asked what industry their career ambition is in, 51% said education, 40% charities and 25% social care, with some expressing interest in more than one sector. Each of our City Year Mentors is guided by their own professional mentor or 'Bridge Builder'.
Teamwork, time management and resilience are just some of the things that I have gained. But I've also learnt the importance of giving back to the community. City Year creates many opportunities for its volunteers, not just in schools. My own mentor has given me a lot of guidance and support.

Katie City Year Mentor, London, 2019-20
Transferable skills gained on the education frontline
The real world experience our volunteers gain in school is just as much a part of their personal and professional development as our training programme. Over the last two years, they've had to show adaptability, resourcefulness and resilience – soft skills that will stand them in good stead as they go on to navigate an uncertain labour market.
City Year Mentors have kept themselves motivated and demonstrated their ability to motivate others; maintaining mentoring relationships with some of the hardest to reach pupils, often virtually. They've shown responsibility, implementing new and changing COVID-19 regulations, and they've displayed flexibility and leadership as schools juggled significant staff absences due to sickness or isolation. Despite the challenges, more than 80% of the 2020-21 cohort saw the academic year through; amongst our highest completion rates.
Employability skills: City Year Mentor end of year survey 2021
72%
of volunteers
agreed or strongly agreed that they are happy to be the leader of a team
94%
of volunteers
agreed or strongly agreed that they can work well with others in a team
91%
of volunteers
agreed or strongly agreed that they can give a formal presentation
77%
of volunteers
agreed or strongly agreed that they can write a strong CV
City Year has taught me to fight through adversity and challenges. It allowed me to be braver, more decisive and willing to give everything from myself for a greater cause.

City Year Mentor Greater Manchester, 2020-21
Career ready: City Year Mentor end of year survey 2021
83%
of volunteers
agreed or strongly agreed that they 'can make the best out of a difficult situation'
89%
of volunteers
agreed or strongly agreed that they 'know which skills they need to improve'
100%
of volunteers
agreed or strongly agreed that they 'can do most things if they try'
77%
of volunteers
completely or mostly agreed that 'they can choose a career that fits with what they're good at.' A further 21% somewhat agreed
City Year has developed and instilled in me so many lifelong skills – through active service as well as Development Days. It has pushed me out of my comfort zone and made me realise I am capable of so much more than I thought. I would never have experienced such personal growth without City Year.

Rhianna City Year Mentor, London, 2019-20
Snapshot survey: how our mentors summed up their 'City Year' 2021
100%
of volunteers
would recommend City Year to other 18-25 year olds
98%
of volunteers
said they had gained skills they could apply to future roles
83%
of volunteers
said they now had a better understanding of people from different backgrounds
100%
of volunteers
said they had been exposed to new experiences
A City Year builds skills and networks for any career
Corporate mentoring
A 10-month programme matching each City Year Mentor with their own career mentor to give practical advice and introductions to networks.
Employability skills
Sessions ranging from CV writing and presenting, to interview skills, time management and teamwork.
Aspirational experiences
Cross-sector career exploration through workshops, guest speakers, fairs and our corporate mentoring programme.
Specialist training for role in school
Encompassing everything from behaviour management to running extra-curricular clubs and pupil target setting.
Project management
Responsibility for organising in-school initiatives and the opportunity to run their own social action projects on other causes they care about.
Stakeholder management
Experience of communicating with a range of stakeholders from teachers and school leaders to employees of corporate partners.
Well-being
In 2020-21, we made sure that well-being became a central part of our leadership and development programme. Sessions were run by external experts on mindfulness and mental health, as well as in-house on resilience and personal well-being.
Our Volunteer Appreciation Month in February 2021 incorporated a day off for every City Year Mentor, dedicated to self-care, and we initiated a series of 'Well-being Wednesdays' during lockdown. These optional drop-ins aimed to be fun and social, ranging from a talent show and baking to yoga and origami.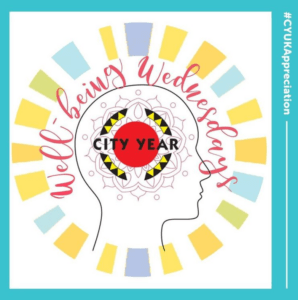 In a one off survey of 95 volunteers carried out at the end of January 2021, during lockdown:
85% of City Year Mentors agreed or strongly agreed that City Year UK cares about their well-being
86% of City Year Mentors agreed or strongly agreed that they felt appreciated
City Year always finds a way to make you feel valued and appreciated. The Well-being Wednesday sessions were a chance to connect with the rest of the team and gave me that urge to take more control of my health. Thanks to City Year I'm feeling the best I could be.

Chris City Year Mentor, West Midlands, 2020-21