Library Work at Tile Cross Academy
Today on the CYUK Blog, we have a post from one of our now-Alumni, Charis! She penned this piece for us towards the end of her City Year journey – read on to find out all about her fascinating library work with the students at her school. 
My name is Charis Gambon, and I served as a City Year Volunteer Mentor in Birmingham  for Year 7 students at Tile Cross Academy. In this blog piece I will be discussing my relationship with the school library and the Year 7 library sessions which I started myself this year.
I developed a very strong positive relations  hip early on with Laura, the school librarian. Laura mentioned to me in the second half term that she could really do with some assistance, and I commented that I would ask Sofia (my Impact Officer) if I could help in the library on Thursday break and lunchtime as that is the Year 7's day in the library. Sofia immediately said absolutely – it would be best to do every other Thursday in the lunch slot due to team time. Team Time was eventually moved to Tuesday not long after which meant that I could help in the library on every Thursday.
Every Thursday lunch time, I ran a workshop session where Year 7 students could attend and create work on worksheets based on topic, with each week being about a different topic. The sessions included: creating their own military medals for an exhibition at the Army Flying Museum, Remembrance Day, Christmas, creating their own superheroes, designing castles, designing a face mask, designing a 'votes for women' poster, designing a coat of arms for themselves, designing a roman shield, how to be kind, female role models and designing a book cover.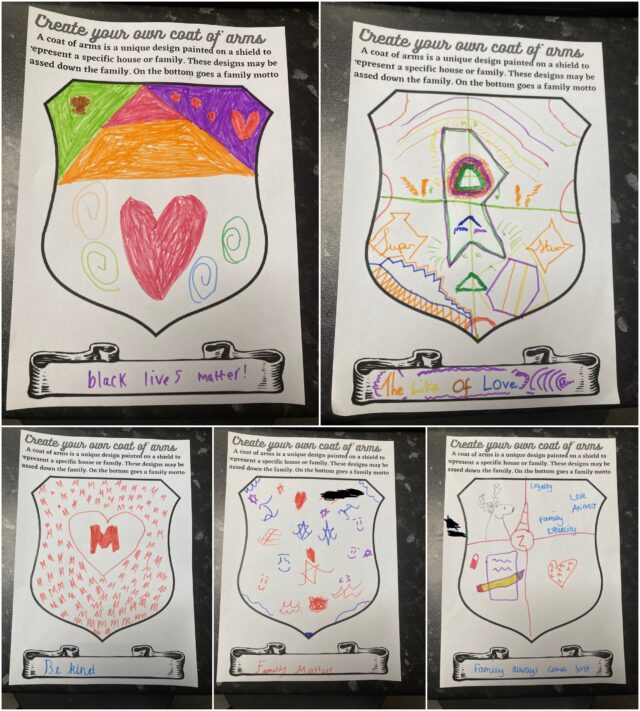 Originally, I sourced worksheets online for the students to use during my sessions. During the school closure period during lockdown, I began creating worksheets of my own for students to use – and upon my return to the school after school reopened, I began to use my own worksheets for the sessions.
I came up with the content ideas for the sessions by either thinking about what topics are fun, silly and engaging for students or by thinking about topics that I personally am passionate about and that I believe are important for students to engage in.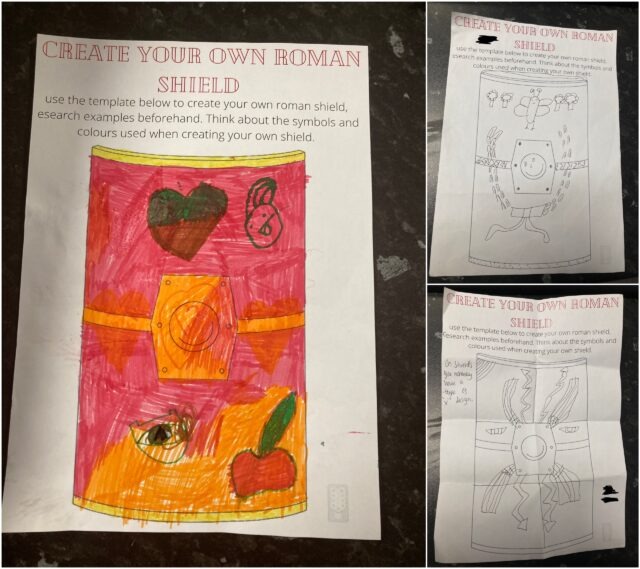 The students really enjoyed the sessions, and I am incredibly proud of the work that they produced during them, especially work on topics such as remembrance and women's suffrage. There were two girls who love my sessions, and they asked me every week about what we would be doing in that week's session; they have attended all of them since I started the club.  Most of the other students attend sessions occasionally and I have recently been able to bring in a few new students, too.
I also came up with the idea of displaying some of each week's work on the wall in the library and the librarian loved the idea, so I set out to create my display. Students absolutely loved the idea that they may find their work displayed on the wall for all to see. One student was so thrilled to see a piece of his work on the wall…he was smiling and stating that he had never had his work displayed on a wall before. It really meant a lot to him to see that I believed that he was doing great work.
I would suggest to anyone who wants to develop their students further to make use of their school's library space. Libraries can be used for much more than reading and borrowing books. I hope that the City Year UK Volunteer Mentors that are based at Tile Cross Academy next year continue the library sessions and extend them to year groups other than Year 7, as currently they were the only year to benefit. I have learnt a lot from running the sessions, and I believe that they were important in my personal development during my City Year.  Creating my own resources and running my own club will help me significantly with the future career aspirations I have, such as museum education as it perfectly fits into the duties of the job.