UK Year of Service: School Service Leader
We are delighted to partner with UK Year of Service to offer meaningful employment to the younger generation. Read on about how you can complete your UK Year of Service with City Year and make a difference in the lives of pupils who need your support to realise their potential.
Why become a School Service Leader?
The Role
As a School Service Leader you will spend your year helping children furthest from opportunity to succeed in school by acting as a positive role model and near peer mentor. You will provide additional capacity within City Year's school-based teams supporting pupils to improve in their social, emotional and academic achievement.
Read more about our approach in schools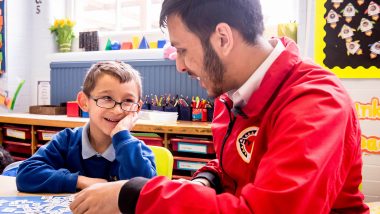 Meaningful relationships
You will be well-placed to create a positive learning environment and meaningful relationships with children who need help to do well at school. You have the chance to bring a new perspective to learning and boost pupils' confidence, while improving behaviour and helping pupils to feel safe, empowered and happy.
Read more about our impact
A year of change
You will also provide support to our City Year Mentors in school, offering mentoring and coaching advice and ensuring that a high-quality programme is delivered. You will support the Impact Officer with the day-to-day management of the team, and work with them to maintain a positive partnership with the school and school leaders.
Download role description
will harness the strength of the next generation to find, face and take on the toughest challenges, with paid employment to serve the UK's local communities wherever the needs are greatest. Learn more about UK Year of Service here.
Serving where matters most
UK Year of Service is your way to engage in community work, make a positive impact in society, get world-ready and work-ready...and get paid for it!
Apply Now to become a School Service Leader