"City Year offered me the chance to grow, both personally and professionally."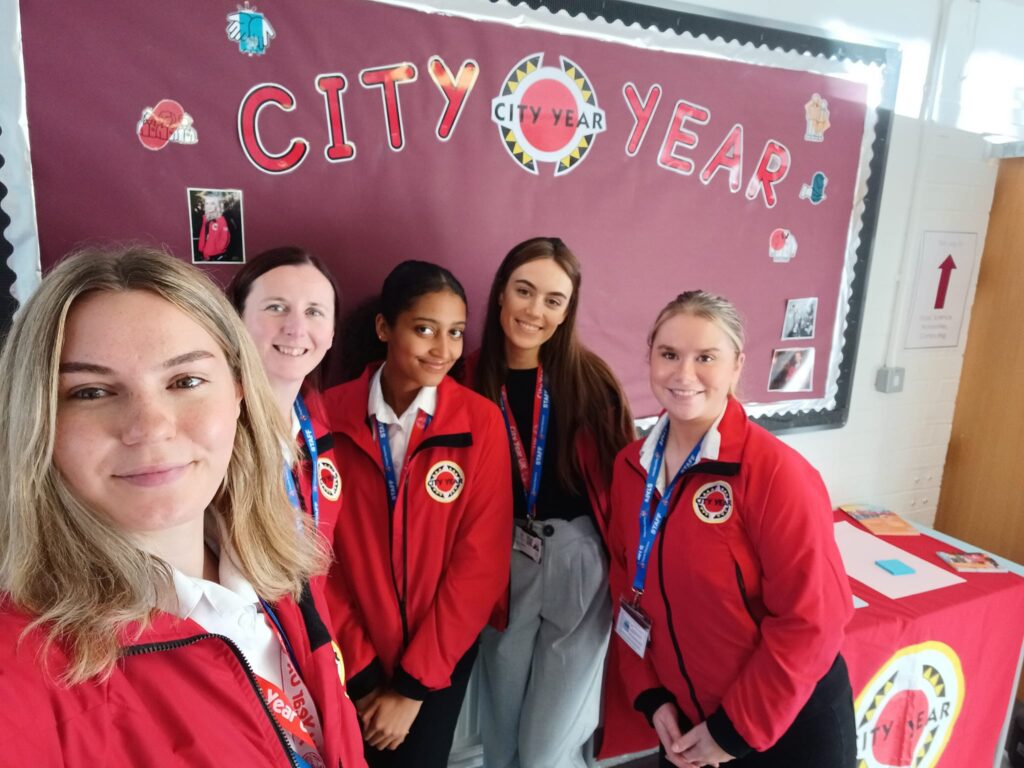 Hope volunteered with City Year in Greater Manchester, 2021-22. She shares her personal development journey from her university placement year to now working at City Year as a School Service Leader.
I started my City Year UK journey while I was studying BSc Psychology at the University of Manchester. I decided to join as a City Year Mentor during my placement year. Completing a placement really made sense for me personally; I wanted to gain work experience, while being supported by the scaffolding of university, and it was a great break from studies before I began final year. 
City Year offered me the chance to grow, both personally and professionally, and it was clear from my first interview that they were willing to invest in my development as a leader. This was exactly what I wanted: to develop more well-rounded skills, and build my confidence.
Throughout my year as a mentor I was extremely happy. I was placed in a primary school in north Manchester, specifically in Year 6, and this was a great match for me. I very quickly became integrated into the Year 6 family, and became a really strong support system for both the children and the staff.
I was able to provide valuable in-class support in many lessons, and supervise (or to put it truthfully, play games with) the children on break duties. I was also able to plan and deliver a weekly maths intervention, breaking down the curriculum so the children could learn at a steadier pace, and I incorporated games to help knowledge stick.
I also planned and delivered a weekly after school club which allowed me to focus on the social and emotional needs of the children. These sessions advanced skills from teamwork, to creativity, to helping students think about their inspirations and potential. During every session, we would reflect and record the positive things the pupils had done for others so that over time they could see the positive impacts they were making.
On Fridays, the City Year Mentors came together for leadership development training. These days were a great way to become closer to the City Year team, as well as learn vital workplace skills such as behaviour management, interview skills, and public speaking. One of the most memorable Friday sessions was when I delivered a talk. I wanted to use this space to highlight important issues, and so I spoke about the media and its consequences on body image. Covering such a sensitive topic was nerve-wracking, but I received amazing feedback, which showed me how capable I was and the importance of raising awareness.
My City Year journey was beyond rewarding. I noticed amazing developments in both myself and my pupils – and I cannot overstate how special that is. One student in particular started Year 6 being unengaged, quiet, and often replying 'I don't know' to most questions. Working 1-on-1 with him allowed me to understand what his needs were, and, over time, he developed confidence in his own abilities. He would give everything a go, know it was OK to make mistakes, and would often tell me he was 'smashing it'. Seeing such a development was amazing, especially as I knew I had played a part in boosting his confidence.
After volunteering, I got the chance to join City Year as a School Service Leader (SSL). This role brings together the work of a mentor with leadership opportunities: two days a week, I support students in-class, and on the other days, I manage and support my team of volunteers. This year, I've been placed in a high school in east Manchester, working with Year 11.
Now I work directly with children as a near-peer mentor and have regular individual 'check-in' sessions, which allow me to support their social and emotional development. These sessions are the highlight of my week: I'm able to build really strong relationships with students and see them become increasingly comfortable and open.
For example, one of my mentees was, at the start of the year, a very closed book and would struggle to identify, communicate and deal with her emotions. Across the year, I've built a really positive relationship with her, and this has led to her opening up more about her feelings and how she is managing. Having check-in sessions with select pupils is special and valuable – I feel like I'm really living up to the definition of a mentor.
Being in a position of leadership was a totally new experience for me. I was an SSL for Team Pride, and without doubt this is such a fitting team name. Although there were (expectedly) a few challenges and situations that were harder to manage than others, I have loved getting close to my team, and expanding on my experience of volunteering.
One of my highlights as an SSL was leading an international social justice forum that brought together City Year colleagues from the UK and the USA to discuss equality and diversity. This took place on International Women's Day, and I led a discussion about gender-based violence, focusing on what governments could do to ensure that women feel safe. This was undoubtedly one of my biggest achievements – I felt so proud that I'd been able to take a lead on such an empowering and productive conversation, and create a really positive level of engagement among everyone who joined.
Being an SSL has given me such useful insight into what direction I want to take for my future career. I have realised how much I value helping individuals make a positive impact, and I now enjoy things I was previously anxious about, such as taking a lead on projects and public speaking. I have also realised just how passionate I am about social justice and ensuring people have equal rights. Being able to demonstrate this has been such a dream, and I know that this is what I want my purpose to be within my career.
Being a part of City Year for two years (and hopefully more to come!) has brought out the best in me, and helped me unlock so much potential both in myself and others. Without a doubt it has been invaluable for me in realising how much of an impact any individual can make.