City Year at the UK Year of Service Pilot Programme Celebration
On Wednesday 13 September, City Year attended a reception at the House of Commons, hosted by The Rt Hon. Lord Blunkett, to celebrate the successful UK Year of Service pilot. The event highlighted the important work of 300 young people, aged 18-24, who took part in the programme and benefited from paid work that pays back.
Three members of our programme team, Zhauni Walker, Jenny Workman and Hope Coffey, took part in the event, which brought together Parliamentarians, young people who have completed the programme, and delivery partners like City Year. Together, we showcased the remarkable achievements of the first two years of the pilot programme.
Stuart Andrew MP, the Charities Minister, gave a keynote address and pledged his support for the programme. Attendees also heard from AmeriCorps CEO, Michael D. Smith, who spoke about the impact of a year of service in the United States.
Over the past two years, City Year UK has joined forces with NCS and 13 other charitable organisations to shape the concept of a 'UK Year of Service.' Our collective mission revolves around tackling barriers to opportunity and equipping young people with essential workplace skills.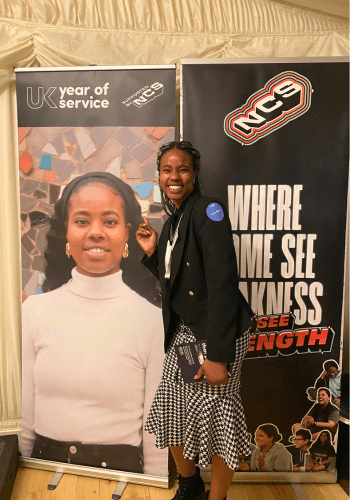 City Year UK has been a proud beneficiary of the UK Year of Service programme since 2021, which has provided funding for our School Service Leader positions, serving schools in London, the West Midlands, and Greater Manchester. These young leaders have played a pivotal role, offering mentoring support to students who are furthest from opportunities.
Hope said: "The event enabled me to network and talk with MPs, CEOs, and charity trustees to give them an insight into my journey as a young professional so far, as well as celebrate truly impactful paid opportunities for young people."
Many thanks to UK Year and Lord Blunkett for hosting this reception and inviting members from our City Year community. For more information about the UK Year of Service programme, please visit ukyear.com.