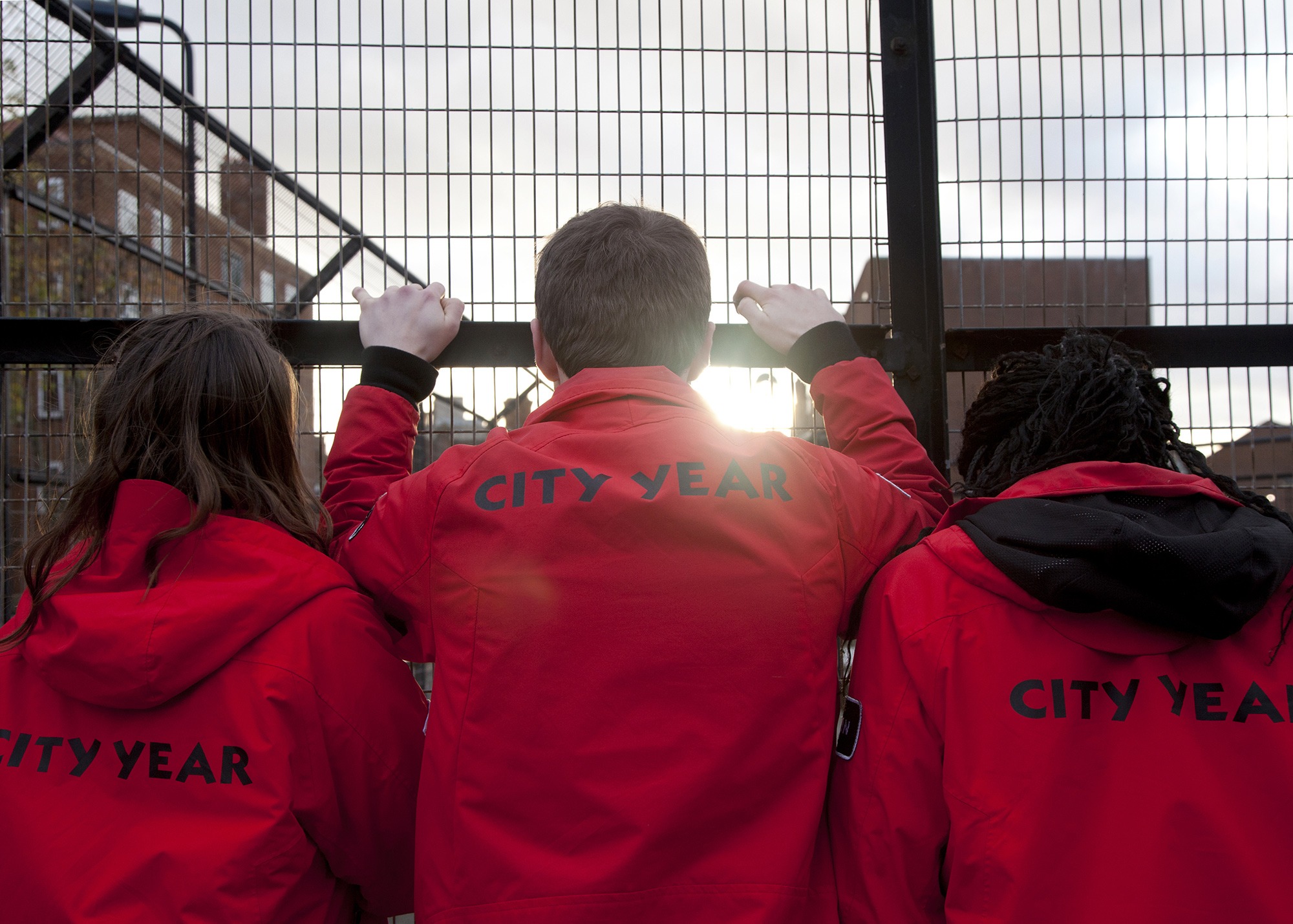 "My journey with City Year has been amazing since day one. The world started to go downhill with COVID and one sector that needed help more than ever was the voluntary and education sector. I got in touch with City Year, had my interview, and the rest is history! The whole process was easy, and everyone was so friendly.  There's no need to worry about feeling intimidated or awkward for anyone who chooses to apply! I was placed into a Greater Manchester primary school and I have honestly had a blast.
Volunteering in the city is so much better than I ever expected.  It has given me the chance to explore a different part of the vast city of Manchester and gain insight into a Mancunian life I haven't experienced for a long time. It's also been a wonderful eye opener into the amazing difference that a small group of volunteers are capable of making."
"One of the best things about the experience is the school I volunteer in.  Sometimes I wonder if I help educate them, or they help educate me! I wish I had known how much freedom and responsibility I would get in school, as I thought I would be photocopying and stood outside in the rain during break duty! Whilst I can't escape these things, I have done so much more. I have been a shoulder to cry on, an academic mentor, a reading partner, a football and basketball player, and most importantly, a friend to the children who need it most."
"A day in the life at City Year usually starts with a team meeting and a coffee to help prepare you before the children arrive (much too lively for 9:00am!) The core subjects, usually in the morning are where some might say we make the most difference. I usually take a small group of students and work them through their maths and English tasks, using a positive learning style to build their confidence in their own abilities. Breaks and lunchtimes are spent tirelessly playing with the children – What time is it Mr Wolf? Tig, Stuck in the Mud, Simon Says – you've heard of it, City Year has played it. It's the most exercise I get all week.
The afternoons are where we make a real difference. Check-in-check-out sessions allow you to get a one to one chat with the kids, to talk about their goals, and to help them achieve greater things in school. My role within the school is massively varied. I never expected how busy it would be but it's never a bad thing. I didn't know how resilient the schools would be during the pandemic, but in all seriousness, I have learnt how powerful and how important a school is in a child's life."
"The year so far has been a huge journey and learning experience for us volunteers in Manchester. There are things we've learnt along the way that we didn't know before but definitely know now. One of the hardest parts has been finding the energy to get up so early in the morning, leaving the house when it's dark, cold and downright miserable Northern weather. When you get home in the evening, it's exactly the same. Motivation is hard to come by on those days but the kids really do make it worth it and it's impossible to stay mardy for too long when the kids crack me up.
I wish I had known how long the journey would be. Even though the school is in Manchester, it is quite a trek to get there. I had to research and plan in advance what forms of transport would be best, what times they were, and when I would need to get up. I had to give myself time to get ready and have breakfast before I set off. It was the same for getting home. With all the travelling, it was hard finding time to do preparation for school stuff. I had to find the right balance. Over an hour on the bus each way wouldn't be my first choice of commute but on the plus side, it definitely gives me time to unwind after a busy day. It was nice some mornings when I met up with my teammate. We would get breakfast before heading to school. We cheered each other up and we both felt ready and excited for the day ahead.
The team is a huge part of the experience. Before joining, I didn't realise quite how much team effort was involved with City Year but we very quickly bonded. Working with the other volunteers is fantastic – it's amazing to see like-minded people make such a positive change. If I could change things, it would be that I'd get to socialise with them more but understandably, that can't be due to COVID-19.  Although, we all have our fingers crossed for an end of year celebration together!"
"Overall, volunteering in the city is such a positive experience. I  would massively recommend it as there's so much to gain. Not every single day is a picnic. Of course there are obstacles throughout the year, I wouldn't expect otherwise, however your team, your impact officer and the kids, all play a huge part in turning that around and creating a life changing experience. I am halfway through my year of service and I will be gutted on the day it finishes, no word of a lie. I have had the time of my life! So if you are to listen to one thing I say in this post, it is – if you want to help others, gain experience in a school and want a year that will change your attitudes, happiness and prospects, get involved with City Year!"
Eloise Ashby, Hope Coffey, Laura Smith and Nicol Quarmby – Volunteer Mentors, City Year Greater Manchester 2020-21